Weekly Training Update: Full Time Work meets Peak Week!
Time for my weekly training update! This week was very full as I had my first week of full time work AND it was my peak week of training! I made it through the week though, and felt I did well at work, and didn't have to skip any workouts. I am quite proud of myself. I'm also quite happy that from here on out, it will be getting easier.
I don't think I could handle two weeks like this past one! Here's how my training went this week.
Sunday: All I did this day was a T25 Dynamic Core workout in the morning, and then had the rest of the day OFF! John and I were able to relax, take a nap, and get some house and yard work done. It was a well needed off day!
Monday: I had to be at work at 7am this day! So, I got my lifting in during my lunch break. Then in the evening, John and I took an easy 30 minute bike ride in the rain.
Tuesday: This was a rough morning. My second in a row of 6am wake up calls. I know, 6am may not seem that early to you, but after a summer of sleeping in till like 8am, it's been a big adjustment! I was able to drag myself out the door and get an 8.66 mile tempo workout run in. Then in the evening, John and I headed to the pool for a swim workout. I could hardly call it a workout because I was so tired, I was completely worthless as far as speed was concerned. So I worked on drills, focused on my form, and just did distance.
Wednesday: This was a slightly easier day. I just had a short, but hard bike workout in the morning. Then in the evening, after work, I went to the pool for an easy 30 minute swim.
Thursday: Another pretty easy day, though a long one. I had to do a swim, bike and run! I started the morning with my run-it was a 1 hr, 15 minute recovery run which I had to do INSIDE because it was thunderstorming.
Then during my lunch break at work, I hopped on a spin bike for an hour recovery ride. Again, I was supposed to ride outside–even brought my bike to work, but it was storming still. In the evening, I headed to the pool again for a swim workout. This one was actually a workout. I'm finally starting to feel like there is hope for my form! ….Maybe…
Friday: This was a hard one! I had just a 35 minute bike ride in the morning, followed by a 6 X 9 minute run at race pace. Again, this was inside because it was storming. I'm kind of sick of the treadmill after this week!
Saturday: I had a fairly easy day, though I did get up early to run a 5k before heading in to work! I had to work a couple hours, but squeezed the race in really quick beforehand. The race went really well because I was able to win overall, and I didn't have to really "race" it! I told John before I left that I hoped there was no one there to challenge me because I wanted to jog the race. I didn't quite jog, but thankfully didn't have to over-extend myself too much either.
After work, John and I went for a nice 2 hour bike ride! It was at a very relaxed pace which was perfect after such a hectic week!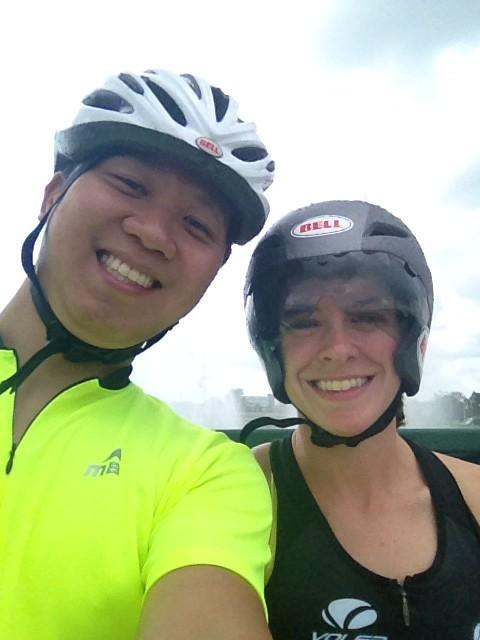 Totals for the week:
Lifting/T25: 1 hour, 15 minutes
Running: 31.38 miles (4 hours, 10 minutes)
Biking: 5 hours, 15 minutes
Swimming: 6,300 meters (2 hours, 23 minutes, 30 seconds)
Total Training Time: 13 hours, 3 minutes, 30 seconds
So that was it for my week! How did your week of training go?
Do you struggle to get up early to get your workouts in after a summer of sleeping in?