Weekly Training Update: Last week of "freedom"
This week was my last week before going back to work! I thought of it as my last week of "freedom", because yes, I'm off work, but am I really free? No, taking care of a baby is MUCH more demanding than my job is. And I have a pretty demanding job! haha… I'm looking forward to going back….though at the same time, I'm sad. I will miss my baby. But I'll also be glad to have a little bit of a break from her as well. I hope that doesn't sound bad! I love her, and love being a mom, but I also love having a job and investing in the lives of college students! Hopefully the transition will be easy on us both….I'll let you know.
But enough of that, lets talk about my workouts during my last week of freedom! I actually had a really great week of workouts, which I'm surprised about because my husband was traveling for work all week, so it was just me and the babe. All day, all night. Every day. Every night. For 6 days. And 6 nights. (This might be why I'm excited to go back to work!) So this is what I was able to accomplish.
Sunday: I went for an hour bike ride on the trainer right after the hubs left for the airport. I had to pause half-way through to feed the baby, but that was fine by me cuz she let me finish after!
Monday: Couldn't go to the pool cuz taking a baby to the gym is frowned upon.
So instead, I did a T25 workout while the baby napped in her pack 'n play beside me. I did Dynamic Core which was awesome!
Tuesday: It was 32 degrees, which was juuuuuust warm enough to safely take the baby out in the jogging stroller provided she was super bundled. So, I put her in her snowsuit and hat, wrapped her up in a blanket, and put her in her carseat with an insulator, and a quilted cover. Then, I closed up the canopies on the carseat and the jogging stroller, and we had a lovely, cozy baby inside! She slept for 3 miles of the run, then started fussing during the 4th mile (wet diaper!), so I headed home and we finished with 5 miles total.
Wednesday: I got in an hour bike ride during the babe's nap! It was nice to go an hour straight without having to feed her in the middle.
I did a tempo workout for 30 minutes of the ride.
Thursday: It was 45 degrees, which was much more conducive to taking the baby in the jogging stroller, so I bundled her up (less than Tuesday), and we headed out. This time, she was awake for 1.5 miles, then fell asleep and slept super well, so we got in 8 miles total! AND, 3 of those miles were under 8 minute pace!
Friday: This time, I was able to get an hour and five minute bike ride on the trainer while the baby napped beside me! I actually put her in her swing when she was awake, and she watched me for a while, then fell asleep happy as a clam.
Saturday: Hubby got home at 1am, so I snuck out for a run in the morning after I fed the baby. I took Durango with me for 2.5 miles, and when I came back, I thought I'd check in on her. Conveniently (or not so much), she was fussing right as I peaked in….so I changed her diaper and fed her, put her back down, and headed back out for 9.5 more miles! I felt so good, and hit several low 7 minute miles! My overall average was 7:44 because I did 9 minute miles when Durango was with me. Slow dog….:) Oh, and Saturday was a super great day because the hubby babysat for me (aka, napped with the baby) while I did some QUALITY recovery pumping! First time I got to use my recovery boots in 12 weeks!!! It was A-MAZING.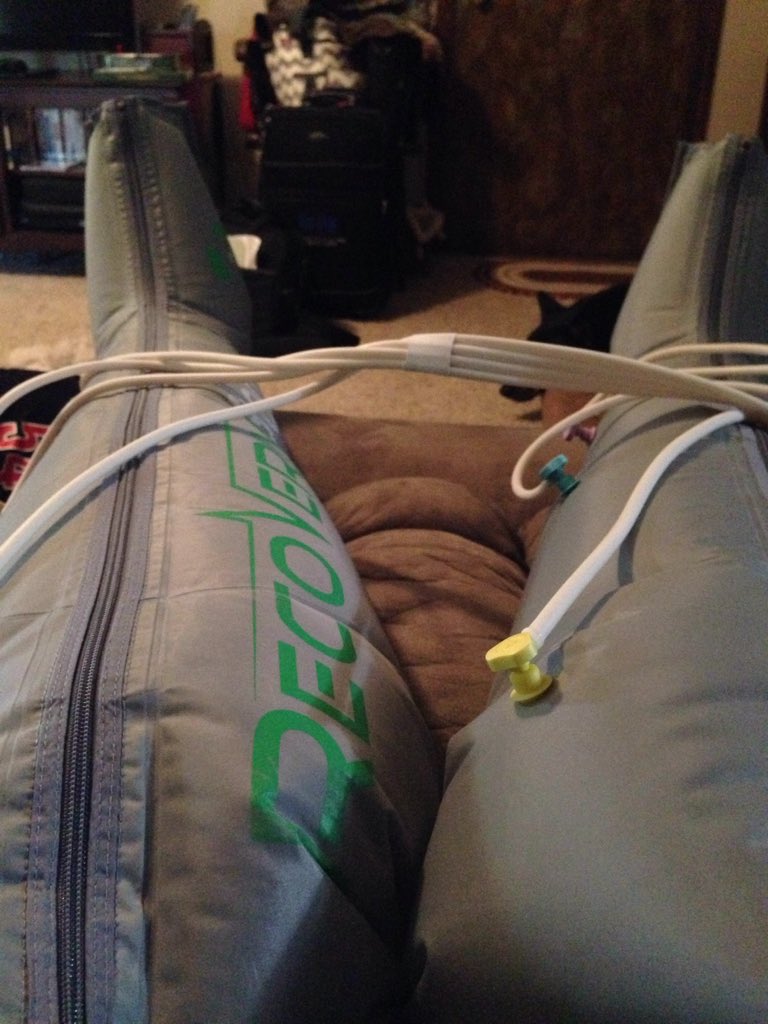 Ladies, it's really nice to have a husband. You appreciate him SO much more after he's been gone for 6 days!