Weekly Training Update: Routine!
Guys, after 3.5 months, we are FINALLY in a regular routine! Or at least this week we were!! Maybe it'll change next week, but this week was awesome! The baby went to bed every night between 7:30-8, and all but one night Sunday through Thursday, she slept until somewhere between 3:30-4:15am for her first section of sleep. Then, she didn't wake again until between 7-7:30am! This meant that I had plenty of time to get all of my training in AND shower, get ready for the day all while she was happily sleeping! It was a perfect week.
Oddly though, I feel just as tired at the end of the week as I did all the other weeks, but I guess that's because I'm getting up for the day somewhere between 3:30 and 4am…:) Also, she decided Friday night would be a good night to sleep horribly, so I'm pretty tired from that too.
For my training this week, I had a "rest" week/test week! Yep, first one of the "season"! However, the tests were "easier" on me than normal because if you remember, last Sunday I did a Splash N Dash race, so we used the 1,000yd swim for that as my swim test. Then, today I have my 3rd indoor bike time trial, so we'll use my results from that to calculate my zones for the bike! So the only test I had to do on my own was the run. So, this is what I did for my "rest" week this week:
Sunday: Splash N Dash race!
I had so much fun! The race was a 1,000yd swim followed by a 5k run. You can check out my recap of the race here. I can't wait for the next one! After the race, I just took the rest of the day off and enjoyed spending time with the family.
Monday: Normally this would be a swim day, but since I swam Sunday, I decided to take the day OFF! First real rest day in a long time.
Tuesday: Hubs was traveling just for the day, so I had to workout inside, so instead of running, I biked. I did an easy workout for 1:10, then got ready for the day.
Wednesday: Easy run with just some 20 second "sprints"-totaled 5.5 miles. It was 57 degrees out at 5am too, so I wore SHORTS!!
I opted not to do formal lifting this week as my rest week, but instead did some squats, lunges, calf raises, and pushups after my run.
Thursday: 1:10 bike ride easy the whole time. I wanted to be well rested for my time trial today!
Friday: 6 mile run with 8×20 second sprints. It was only 20 degrees—HUGE change from Wednesday, but it was a beautiful star-lit morning and I enjoyed it!
Saturday: Run test! The baby woke up at 1:30am, 3am, and 4:30am. I decided after putting her back to bed at 5am that I better just get up and run or else I might not get the chance. So I had breakfast, bundled myself up for the 20 degree temps, armed myself with my headlamp, and headed out! In the past, I've gone to a track about 15 minutes away, but having a sleeping baby and husband at home didn't afford me that luxury, so I ran the mile down to a park that had a half mile pathway around a pond and called that my "track". It's *mostly flat, so it worked. It was SUPER dark though, so running fast with only a headlamp to guide me was a challenge! Also, with it being dark, it was harder to focus on pushing hard. But I tried my best! Also, with just 7 minutes left of my 30 minute test, my headlamp completely died! So, I did the last part of the test in complete darkness…thankfully I'd memorized every bump in the path by that point, so I didn't trip and die.
I finished the test with an average pace of 6:18/mile, and my heart rate was 172! My average heart rate has always been in the 180s for my run tests, so I was really happy with that! Also, the 6:18 pace was faster than I hoped for…not as fast as I've done before, but definitely not as slow either! Also, when I finished, I wasn't as exhausted as normal; I felt like I could have kept going! Overall, it was a really good test!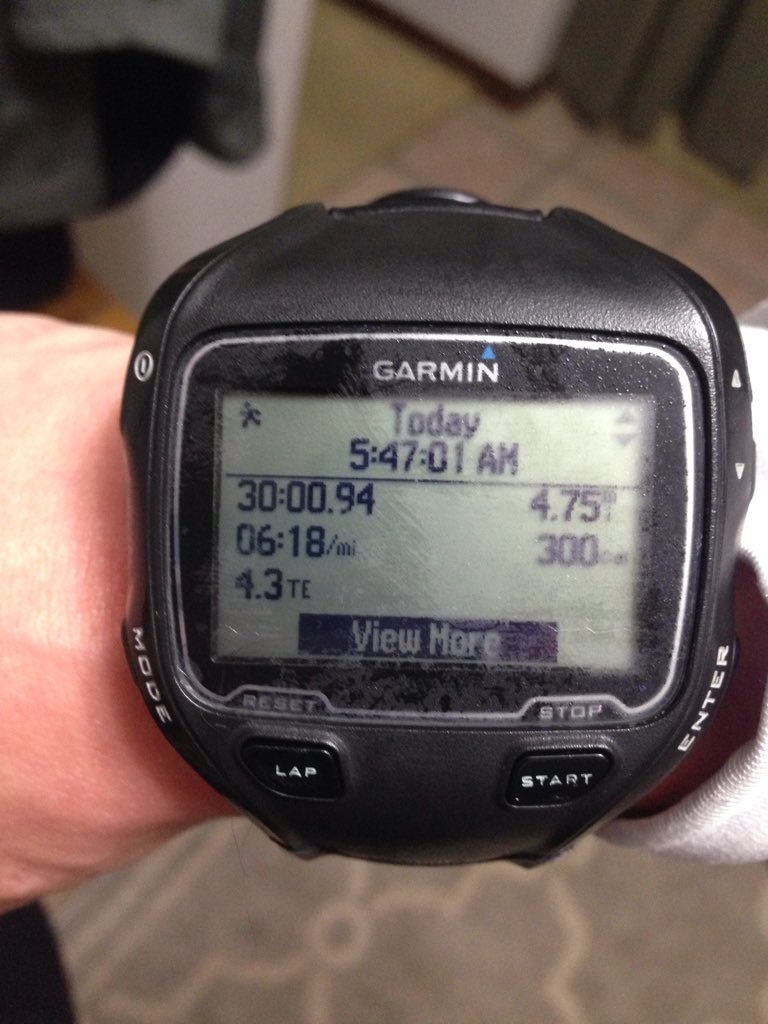 I'm looking forward to my bike test (10k time trial race) today!
How did your week of training go?